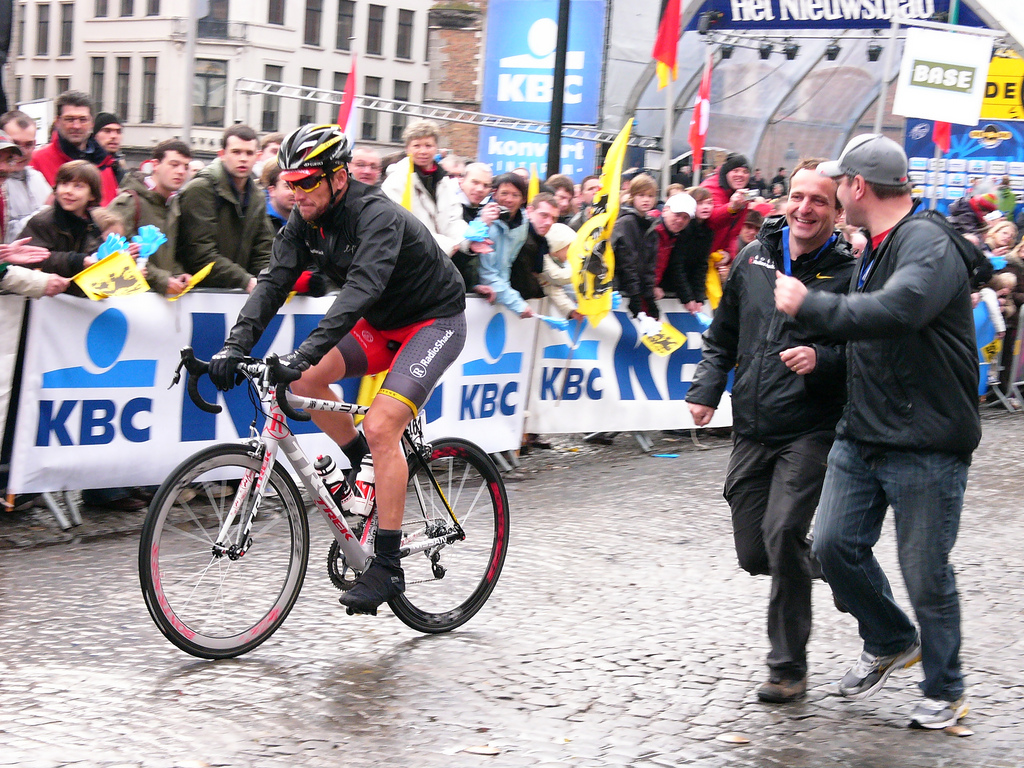 Anybody who has ever ventured into the world of cycling has heard of Lance Armstrong. The man had a lot of titles under his belt, until they were taken away from him, or he lost them, depending on the perspective. Regardless, even after losing his titles, he remains a very successful and controversial figure in the world of cycling and deserves to have his story retold.
The Early Years
Lance began racing at the age of 16 as a triathlete. At the age of 21, he turned professional with the Motorola Cycling Team. He won the World Road Race Championship in Norway in 1993. This was his first major win and what set him for an interesting remainder of his professional career. He also won the Thrift Drug Triple Crown of Cycling: the Thrift Drug Classic in Pittsburgh, the K-Mart West Virginia Classic, and the CoreStates US PRO national championship in Philadelphia that same year. He won the Thrift Drug Classic in 1994 and many other races, some in Europe, some in the States. Clásica de San Sebastián and Overall Tour du Pont are his notable 1st places in 1995.
He signed a 2 year deal with Cofidis Cycling Team in 1996, yet was delayed due to a cancer diagnosis.
Cancer Diagnosis and Recovery
On October 2nd 1996, Armstrong was diagnosed with stage 3 testicular cancer. In his case, the cancer had spread to his brain, lungs abdomen. His symptoms were coughing up blood and a swollen testicle. The next day, he had his testicle removed. His chances of survival were almost none, according to the doctor who had diagnosed him, Jim Reeves. Lance was told that he had 20% to 50% chance of survival, mainly due to encouragement.
Contacted by Steven Wolff, an oncologist, Armstrong went to Indiana University medical center in Indianapolis to receive the rest of his treatment. He underwent a lot of cocktail therapies, four of them, in fact. His brain lesions, found to have severe necrosis, were removed in 1996. His final chemotherapy was on December 13th, 1996. 2 months later, in February of 1997, he was declared cancer-free. Not long after, unfortunately, his contract with the Cofidis Cycling Team was declared void. He got a deal with the US Postal team and moved to Europe to start rigorous training.
The Victory Years
From 1998 to 2005, until his first retirement, Armstrong collected 7 consecutive Tour de France titles. Among those titles, he collected a plethora of other, non grand-tour titles, yet they were all in vain. He announced his retirement in 2005.
He came back in 2009, wanting to compete. He participated in the 2009 and 2010 Tour de France races yet without notable success. In 2011, he announced his retirement again.
Doping – The Dark Side of Cycling
Ever since his victory in 1999 at the Tour de France, Armstrong has been accused of doping. He denied the accusations up until 2013 where he confessed to doping in an interview with Oprah Winfrey. In 2012, he was stripped of all his titles from 1998 up to his retirement and banned from competitive racing.
He stated that he started doping in the early spring of 1995 and stopped in 2005, after his final Tour de France victory and first retirement. He was faced with many trials for doping and collecting prize money and many, if not all, of his sponsors dropped him. Personally, he had not taken the public's reaction to heart, though it had exceeded his expectations, regarding the negativity.
The story of Lance Armstrong has its ups and downs and should serve as a lesson and warning to any professional athlete.